Guides 1815
Your guided tour: a unique experience !
Our guided visits are designed as much for individuals, families, or larger groups, whatever suits your needs.
We are ready to guide one individual, a journalist or enthusiast, a couple, Belgian, or from more distant lands, a family, or group of friends seeking active or cultural experiences, professional people, or sporty, who are curious about this piece of important history, both from the Belgian and European standpoints, at the actual place where it all happened.
Our guides are as attentive to the interests of individuals as to the needs of group coordinators.
All of our guided visit itineraries are available to any size group, from one person to a whole tour bus. 
A tailored visit can also be created in conjunction with events, or particular objectives. 
Please let us know exactly what your interests are when you make your reservation, and the guide will be ready to satisfy your expectations.
On the Ground
There are special ticket packages for groups, and provisions will be made for rest and mealtimes.
There are additional activities explained on the website of the Memorial Waterloo 1815.  Please take a look, and let the Memorial Waterloo 1815 team know if you have a larger group.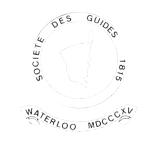 Guides 1815 Waterloo © 2019 - Designed by